Design Color of the Month = Green
Since green is such a dominant color in nature I feel there is no better color suited for the month of March and the beginning of spring. Since we are approaching the spring real estate selling season, you may be considering selling your home and looking for some staging thoughts. Or you may simply want to make a few design updates. Green can express feelings of renewal and life, as well as a feeling of abundance, refreshment, rest and security. There are many ways to bring color into your home without the use of paint, to add a touch of color while maintaining a neutral palette. If you ever want to chat about your plans or get ideas, just give me a call. I hope you find some of these "green" ideas helpful and inspiring. Wishing you a happy and renewing Spring!
FIRST IMPRESSION
A lime green entry door really makes a first impression and can add a quick sparkle to the curb appeal of your home. Welcome guests in your home with this popular mid-century front door color. Siding colors such as black, charcoal gray, and dark brown can handle this bright green door.
BOLD AND BEAUTIFUL
A green accent wall and floral pattern infuses this living space bringing style and boldness. A neutral corduroy sofa and hardwood floor is modernized with bright yellow, navy blue and green pillows; a gold plant container and wicker elements combine elegance and earthiness to this bright and sunny family room.
COLOR MY ISLAND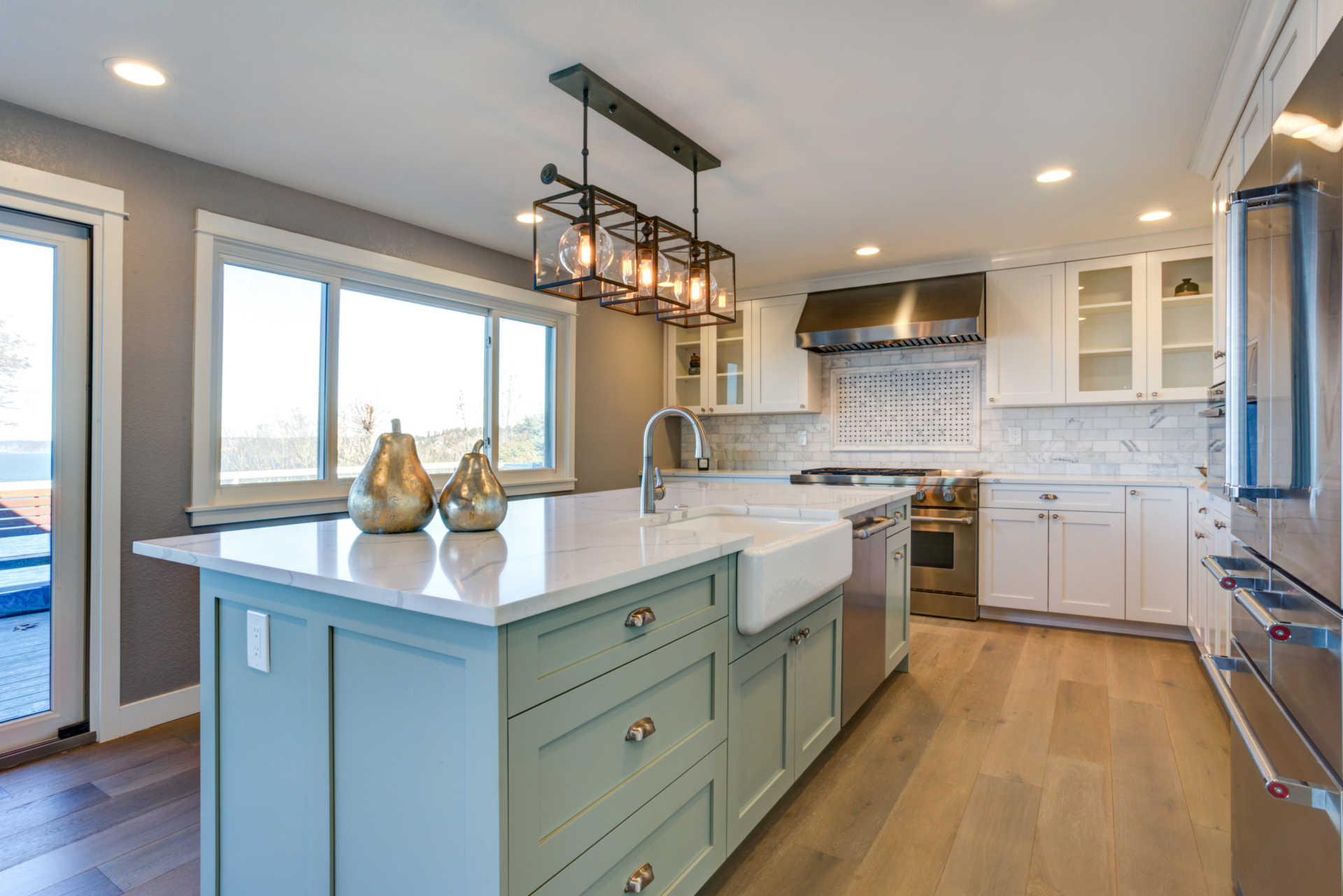 This elegant kitchen uses a seafoam green island to add a touch of color to a white kitchen and neutral painted wall. The stainless-steel appliances, farmhouse sink and wide plank wood floor gives this kitchen a clean beautiful design.
CALMING EFFECT
Shades of green and light gray can bring a calming effect to the bedroom. Add a pale green throw to bring less stress and more calm for a restorative sleep. To further enhance your sleep, add green plants such as spider plants, snake plants, and jasmine.
LET THE LIGHT SHINE IN
Walls covered with vertical green tile and an oversized mirror reflect light and help to expand the size of this bathroom. The black terrazzo floor, globe pendants and circular vessel sink creates a distinct contemporary style.